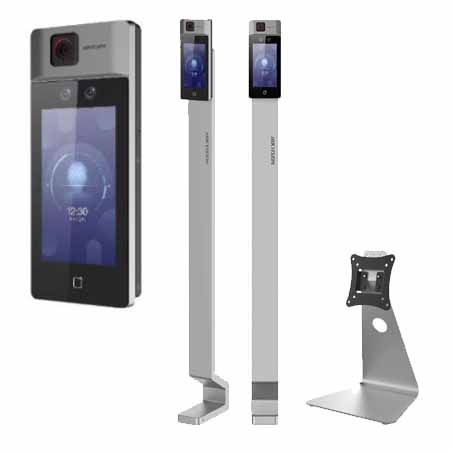 Ultra Face Recognition Terminals
Temperature measuring range: 30 °C to 45 °C (86 °F to 113 °F), accuracy: 0.1 ° C, deviation: ± 0.5 °C.
Recognition distance: 0.3 to 2 m.
Fast temperature measurement mode.
Face mask wearing alert and forced mask wearing alert.
Displays temperature measurement results on the authentication page.
Voice prompt will be triggered and door status (open/close) can be configured when detecting abnormal temperature.
Face recognition duration < 0.2 s/User; face recognition accuracy rate ≥ 99%.
50,000 face capacity, 50,000 card capacity, and 100,000 event capacity.
Suggested height for face recognition: between 1.4 m and 1.9 m.
Specification
Temperature measurement:
Temperature range30 °C to 45 °C (86 °F to 113 °F).
SensorVanadium Oxide uncooled sensor.
Measurement accuracy0.1 °C.
Measurement deviation± 0.5 °C, without black body calibration.
Measuring distance0.3 to 2 m.
Screen:
Operation method Touch screen.
Camera:
Network:
Wired network Support, 10/100/1000 Mbps self-adaptive.
Interface:
Authentication:
Function:
Face anti-spoofingSupport.
Others:
Working temperature0 °C to 50 °C (32 °F to 122 °F) For temperature measurement: 10 °C to 35 °C (50 °F to 95 °F).
Working humidity10 to 90% (No condensing).
Application environmentIndoor and windless environment use only.